"La violación es un acto de odio", dice la inglesa Anne Perry, que aborda la venganza y la culpa en BCNegra y presenta su nueva entrega del inspector Pitt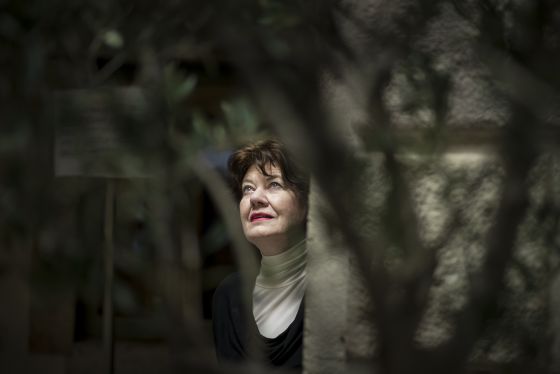 La escritora inglesa Anne Perry, ayer en Barcelona. / gianluca battista
Se huele el humeante té victoriano y hasta se masca el barro de las trincheras de la I Guerra Mundial, pero lo importante en las cuidadísimas series de novelas negrocriminales de Anne Perry (Londres, 1938) está en el comportamiento de sus personajes ante los dilemas a los que los arroja. Por ejemplo: acude a Barcelona la incluida entre los 100 mejores autores del género del siglo XX según The Times al festival BCNegra (se encontró con sus lectores ayer en la Biblioteca Jaume Fuster) con nueva entrega (y van 28 solo de ésta) de su serie del detective en el Londres victoriano Thomas Pitt y su esposa Charlotte, Medianoche en Marble Arch (Ediciones B), planteando la violación de la mujer de un banquero, que al poco se suicida empujada por rumores y prejuicios sociales a pesar de ser la víctima. "¿Debe denunciar el acto u ocultarlo como sea? Si se denuncia, se acaba para siempre con la vida de esa persona, la gente recordará el episodio hasta el fin, será un estigma que arrastrará siempre… Para mí, o bien hay que olvidarlo o se sale por la venganza personal, pero el estigma no puede quedar para siempre".
La respuesta no es gratuita si se rasca en la trastienda de Anne Perry, nacida Juliet Hulme, que en 1954, a los 15 años, viviendo entonces en Nueva Zelanda, asesinó junto a su amiga Pauline Parker a la madre de ésta golpeándola con un ladrillo para evitar que las separaran. Menor de edad, saldó su culpa con cinco años de prisión, la prohibición de volverse a ver y a hablar nunca más con su amiga del alma y las más o menos veladas preguntas de los periodistas para siempre. "No, no exorcizo ese episodio en mis novelas, no traducen nada de eso; yo ya escribía y contaba historias antes de aquello", dice más de dos décadas después de que trascendiera públicamente aquel episodio de su adolescencia, que ha dado pie a dos películas ya, la más famosa Criaturas celestiales (1994), en la cual Kate Winslet la interpretaba. "No, tampoco escribiré nada específico: ya se ha hablado, escrito y removido suficiente. Han pasado 60 años, por favor", deja caer.
Reconduce rápido la charla a la trama de su última obra publicada en España (va a dos por año: escribe ocho horas al día, seis días por semana en su pueblecito escocés, junto a su perro y sus cinco gatos): "Una violación no tiene nada que ver con un acto de deseo incontrolable sino de violencia pura, de representación de poder, de acecho, que deja huella indeleble en la víctima; conozco mujeres que no lo han olvidado 50 años después… No sé aquí, pero en Gran Bretaña, además, solo se condena al violador en tres de cada diez casos… La violación es un terrible acto de odio", sentencia.
También está el odio de la víctima, que igual pide venganza, algo muy de moda en los héroes del siglo XXI. "Puedo entender la rabia que te conduzca a una venganza, pero al final no vale la pena: si te vengas te pones a nivel del asesino; si perdonas, estás en un plano superior; la venganza personal no es admisible; la pasada por la justicia, sí, porque si el crimen queda sin castigo facilitas la venganza personal, y eso conduce automáticamente a la anarquía; de eso va la última obra que ya estoy corrigiendo, Lancaster Gate". Y deja caer: "Además, todos en algún momento habremos hecho alguna cosa mala en la vida; tampoco sabemos si alguien querrá vengarse por ello… Es difícil dar respuesta a lo que hay que hacer en cada momento, pero perdonar siempre, de manera sistemática, también es un error".
El sustrato moral que destilan tanto sus respuestas como encarnan sus personajes bebe mucho de la fuerte creencia religiosa de Perry, proactiva mormona desde hace más de cuarenta años. "Si lee toda mi obra sabrá en qué creo y por qué", apunta. Ardua labor: la biblioteca Anne Perry la conforman hoy más de sesenta títulos (26 millones de ejemplares vendidos), en un elenco que van desde cartesianos cuentos de Navidad, un par de títulos de fantasía con claro trasunto religioso, la serie de la I Guerra Mundial de los tres hermanos Reavley y su pugna con un misterioso agente alemán infiltrado y la de los dos policías victorianos, Thomas Pitt —con su bien conectada y aristocrática mujer Charlotte—, y la de unas décadas anteriores pero también victoriana figura del expolicía William Monk (por cierto, con brotes amnésicos) y la enfermera veterana de Crimea Hester Latterly. "Cuando el eje es más militar, médico o legal, el caso lo paso a Monk; si es más sociopolítico, se los atribuyo a Pitt", aclara quien se ha dicho que su obra es como leer a William Tackeray pasado por el cedazo de Elmore Leonard. "Son dos nombres que me gustan; yo leo especialmente a norteamericanos, como Michael Connelly, Jeffery Deaver y Mark Giménez… Los autores británicos, en general, me parecen más oscuros; también me gusta mucho Chesterton, pero más su poética estilística que no la serie del padre Brown, y dicen que tengo un punto balzaquiano". Con el sabor literario de todos ellos sumerge a sus personajes entre las brumas de la redención, los matices grises de la moral y una pespunteada reivindicación feminista.
El último best seller de Perry no es, sin embargo, ningún libro sino un DVD de bello título, Put your heart on the page, que tendrá en breve segunda entrega, que son sus consejos para escribir. ¿Dónde está la clave? "Puedes aprender a construir buenos argumentos y diálogos, a mantener el ritmo, a crear una gran ambientación… pero si no tienes pasión por escribir y no transmites y dotas a tus personajes de pasión es imposible que lo que hagas llegue a alguien; si no quieres a tus personajes, si no les das motivos para hacer lo que hacen y por qué, que eso les preocupe y explique sus actos, quiere decir que esos personajes no te importan, y si no te importan a ti no le importan al lector".
Asegura Perry que de todas sus novelas, personajes y tramas no hace nunca un guion previo, asumiendo que puede que en el futuro los estudiosos de su obra encuentren faltas de raccord. "Lo hago todo de memoria; lo tengo todo en la cabeza". El olvido es imposible, ¿no?
http://ccaa.elpais.com/ccaa/2015/01/30/catalunya/1422655391_625219.html