Magna Carta: leaders celebrate 800th anniversary of the Great Charter
Queen is joined by top officials in the place where King John was forced to seal historic document that underpins modern democracy and human rights
Monday 15 June 2015 14.33 BST Last modified on Monday 15 June 2015 17.22 BST
Royalty returned to Runnymede 800 years after a group of rebellious barons forced a medieval king to put his seal on a historic document that established the foundations of parliamentary democracy, human rights and the supremacy of law.
Eight centuries after the sealing of Magna Carta by King John in a boggy meadow on the banks of the Thames in Surrey, the Queen joined thousands on Monday who had travelled from around the world to stand in that field to mark the anniversary with a ceremony heavy on symbolism, speeches and flags.
In a written message, the 89-year-old monarch, patron of the Magna Carta Trust, said: "Runnymede is an ancient and resonant meeting place and it is fitting that we should assemble again here where the Great Charter was sealed 800 years ago.
"The story of the British monarchy is intertwined with that of Runnymede and Magna Carta. The values of Magna Carta are not just important to the United Kingdom and the Commonwealth, but across the world. Its principle are significant and enduring."
The site is now a National Trust park, but Runnymede was originally chosen as the agreed venue because the boggy ground prevented either the king or his barons from bringing their armies for battle.
This time, the sovereign arrived without military backup but to a new fanfare, specially composed by John Rutter and sung by Temple church choir, whose London base served in 1215 as the London HQ for the beleaguered king.
Her Majesty was invited to unveil a plaque by the master of the rolls, Lord Dyson, who has in the past described Magna Carta as "a curious hotch potch".
Magna Carta – or the Great Charter, a Latin translation that famously eluded David Cameron during a 2012 appearance on David Letterman's talkshow in the US – has formed a cornerstone of fundamental liberties over eight centuries.
Addressing the crowd, the prime minister, who has advocated Britain's withdrawal from the European convention on human rights and replacing the Human Rights Act (HRA), said Magna Carta had altered "forever the balance of power between the governed and government".
He added: "What happened in this meadow 800 years ago is as relevant today as it was then. It's remaining copies may be faded but its principles shine brighter than ever."
In Britain, the good name of human rights had sometimes been "distorted and devalued", he said. "It falls to us in this generation to restore the reputation of those rights and their critical underpinning of our legal system. It is our duty to safeguard the legacy, the idea, the momentous achievement of those barons. And there couldn't be a better time to reaffirm that commitment than an anniversary like this."Amnesty International UK's head of policy and government affairs Allan Hogarth said Cameron's use of the anniversary of Magna Carta to justify scrapping the HRA would "have those 13th-century barons spinning in their highly-ornate, lead-lined coffins", adding: "Any move to scrap the Act would be a real blow for human rights in this country and around the world."
It took the Americans to erect the first memorial of stone pillars on the spot where King John was forced to acquiesce to the demands of his rebellious barons. Installed in 1957 by the American Bar Association (ABA) and rededicated on Monday, the stone honours a document that travelled across the Atlantic with the Pilgrim Fathers and became the inspiration for the US constitution.
The US attorney general, Loretta Lynch, joined the ABA president, William Hubbard, for the rededication. Lynch, fresh from her with battles with Fifa, told those gathered: "While the hands that wrote Magna Carta have long been stilled, the principles they carved out of the struggles of their day and the struggles of the human condition live on."
That it had taken Americans to first honour Runnymede was understandable, said Conservative MP Jacob Rees-Mogg, who was among the guests. "Americans understand our history much better than we do ourselves because they see it from afar and see how important it is, while we've grown comfortable with it. It takes the outsider to see that this is really remarkable."
Magna Carta was hugely important, he added. "The historians and the judges who say, 'Oh Magna Carta, its not really a serious document and all it does is stop you from putting in weirs to catch eels,' I think they are wrong because they don't see the bigger picture of how important it's become in our national legend."
Joining the ABA memorial was a new public artwork – 12 burnished bronze chairs by sculptor Hew Locke, entitled The Jurors – which was inaugurated by the Duke of Cambridge. "It is inspired by clause 39, giving rights to trial by jury," Locke said of the work, which references Nelson Mandela, Pakistani activist Malala Yousafzai's fight for education, the gay rights campaigner Harvey Milk, and a boat carrying refugees among its global and historic themes.
Another addition of note is a four-metre bronze statue of the Queen in full garter attire, which was gifted by the company Magna Carta Legacy Ltd and unveiled on Sunday despite public objections that called the piece "utterly bizarre and ridiculous".
Magna Carta – 3,500 words on calfskin parchment, first drafted by the archbishop of Canterbury – was extracted from King John, known as John Lackland after losing Normandy and Anjou to the French, at sword point by his frustrated noblemen, who captured London and held him to ransom. All involved on that historic day would be astonished to think of its resonance since. John never wanted it published and it was annulled by Pope Innocent III nine weeks later. The pontiff ruled the king had been forced to seal it under duress.
It was redrafted in 1216, 1217, and 1225, and confirmed in English law in 1297 – 81 years after John's death rumoured from dysentery or a surfeit of peaches. Either way, it was an unfortunate end for a king described as "brimful of evil qualities" by one contemporary writer and whom history condemns as a cruel and lecherous tyrant.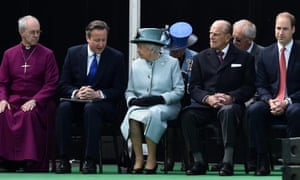 Most parts of Magna Carta have since been repealed, and it was originally an English document relevant only to rich, free, land-owning males. But buried within it were clauses that have universal relevance today, and its modern grandiloquent interpretation owes much to Sir Edward Coke, a prominent jurist of the Elizabethan and Jacobean era, who updated it for use against the Stuart kings.
Giant figures of Coke and also leading suffragette Emily Pankhurst formed part of a re-enactment of the history of the charter as school children paraded with specially designed flags on Monday.
Prince William met Karl Newman,55, from Surrey Arts who was inside the 8ft tall puppet of Edward Coke. "I'm not sure if the Duke had heard of Edward Coke but he was interested to know who made the puppets and I told him they were made for the 799th anniversary last year and we kept them until now," he said.
Guests enjoyed a programme of history, music – including extracts from Gilbert and Sullivan's one-act operetta Trial by Jury – and references to satire from Spitting Image to Dryden and Pope.
Four copies of the charter still exist, two in the British Library and one each in Lincoln and Salisbury cathedrals.
On the eve of Monday's commemorations, new evidence emerged to rebut the theory that it was King John's royal scribes who were responsible for its publication and preservation. Rather, say historians following a three-year-study, the fact it survived was down to church scribes based at the ecclesiastical centres in Lincoln and Salisbury.
The ceremony concluded with a unique flypast, a Typhoon and Spitfire together, referencing the Battle of Britain pilots defending Britain from invasion 75 years ago, and today's Quick Reaction Eurofighter Typhoons. They were followed by the red, white and blue plumes from the Red Arrows Hawk T1 jets.